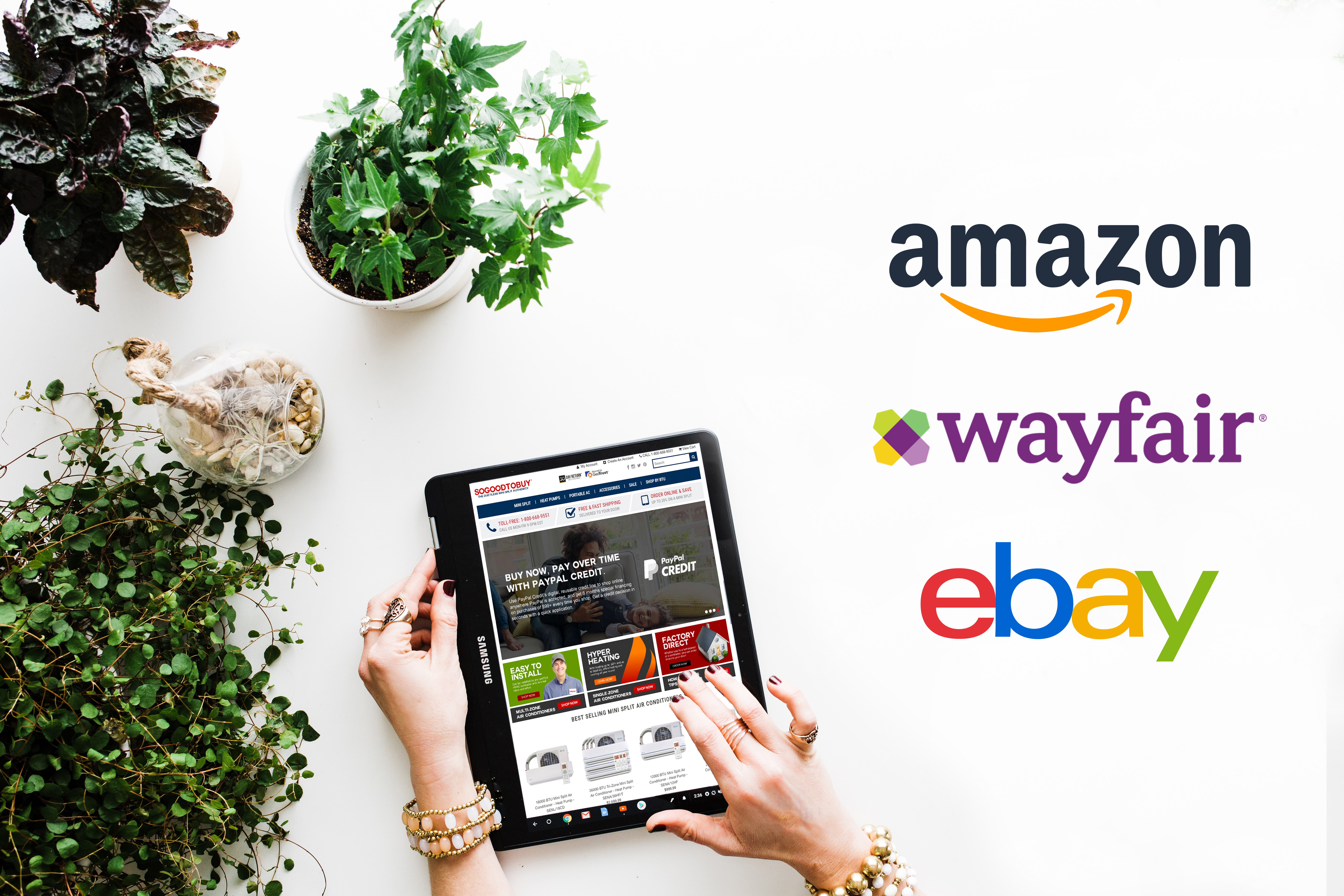 Listed below are our three main marketplaces that we trust in order to give you the most transparency during your purchasing experience. Each has distinct qualities that provides exclusive memberships, warranties, and fast shipping. While there is common ground in all of these marketplaces, each has unique features that are tailored to suit your needs.
1. Amazon
Amazon is know for its Prime service that includes 2-day shipping and exclusive shopping deals. With reliable customer service and the best prices available, its intuitive interface allows you to track/cancel your oder, change or return an item, add multiple payment methods, receive additional information on shipping carriers, and reach customer service 24/7. Amazon's SquareTrade Protection Plans are also a huge bonus when considering extended warranty on consumer electronics. Whether it's for mechanical or electrical failures, repairs and/or replacement parts, or general labour, Amazon's certified protection plans guarantee your unit instantly.
Extended warranty protection plan

Fast shipping with ETA

Amazon Prime

2. Wayfair

Wayfair is the largest marketplace for home products, furnishings and services. Their curated selection of brands offers a wide variety of products that are designed to inspire your interior space. Their loyalty program MyWay gives a customized shopping experience with free shipping on everything, discounted home services (assembly and upgraded delivery options), insider sales, free 1-day shipping on a selection of items, and 25% off professional design services. Wayfair's affordable prices can even be broken down into monthly instalment payments with PayBright and insider pricing for businesses.
PayBright (monthly instalment payments)

Insider pricing for businesses

MyWay Loyalty program
3. Ebay

Ebay's large online community utilizes its product, seller, and customer ratings to ensure feedback and reviews as a priority in quality and value. With displayed product comparisons, savings, and similar items, Ebay's marketplace generates a customer based approach to satisfy your needs according to what people are saying. With an additional 3-Year-Protection plan from SquareTrade (offered for Canadians), Ebay offers their own Money Back Guarantee policy to secure your satisfaction and resolve any issues.
Ebay Money Back Guarantee + 30 Day Returns

3-Year-Protection Plans (Canada only)

Feedback and ratings

Seller's track record
Benefits of Purchasing Online
When purchasing a mini split ac, you may be debating whether purchasing online or directly from a seller or installer is the best option. Given that buying online has become a standard method of purchase, the pros outweigh the cons.
List of Benefits
Track Order

Match Pricing

Customer feedback

24/7 Customer Service

Wide range of products and brands

Product Comparisons / Similar items

Avoid impulsive or misinformed purchases

Online forums that are unbiased towards a product

Mobile friendly applications allow you to buy on the go
Need more info? Check out our other posts!
How To Maintain Your Mini Split System
How Does A Mini Split Heat Pump Work?